Local Area
---
El Campello
El Campello is a modern coastal resort, which boasts 23 kilometres of quiet, pearly white, sandy beaches. Situated 14 kilometres north of Alicante.
El Campello boasts a beautiful natural environment, with an outlook to the beach and sea, and a mountain backdrop. A splendid climate and the promise of a holiday filled with peace and tranquility is what you can expect on your trip to El Campello.
It has excellent road and rail connections, with Alicante, Benidorm,Altea, Calpe and Alicante International Airport just 35 minutes drive away.
Leisure and recreational
The Paseo del Mar (promenade) is almost 2 miles long and makes for a lovely evening stroll in the setting sun. During the day take advantage of the beaches and sea
Beaches  The main beach at El Campello is the beautiful wide, sandy beach of Muchavista. In the vicinity there are some charming coves, such as those of La Coveta Fuma 
or La Venta La Nuza. With crystal clear waters and excellent year-round weather make for an ideal place for water sports such as sailing, scubadiving and windsurfing.
Its 23 kilometres of coastline, the longest in the province of Alicante, are an oasis for the senses. Along this long stretch of seafront you will find golden-sand beaches such as those of Muchavista and Carrer la Mar which give way to the peaceful coves appearing behind la Illeta: from the beaches of Morro Blanc to Carritxal. Beaches and coves, all of them ideal for water sports. The defence and preservation of our coasts has received the blue flag recognition, and thanks to the environmental management system of the Beaches and coves hold the ISO 14.001 and ISO 9.001 Certifications for the environmental quality, for the quality of its waters, the upkeep and cleanliness of its surroundings and for its services and facilities. In addition, it has been recognized by the ISO 170.000 of ' Global accessibility ' for disabled people.
Excursions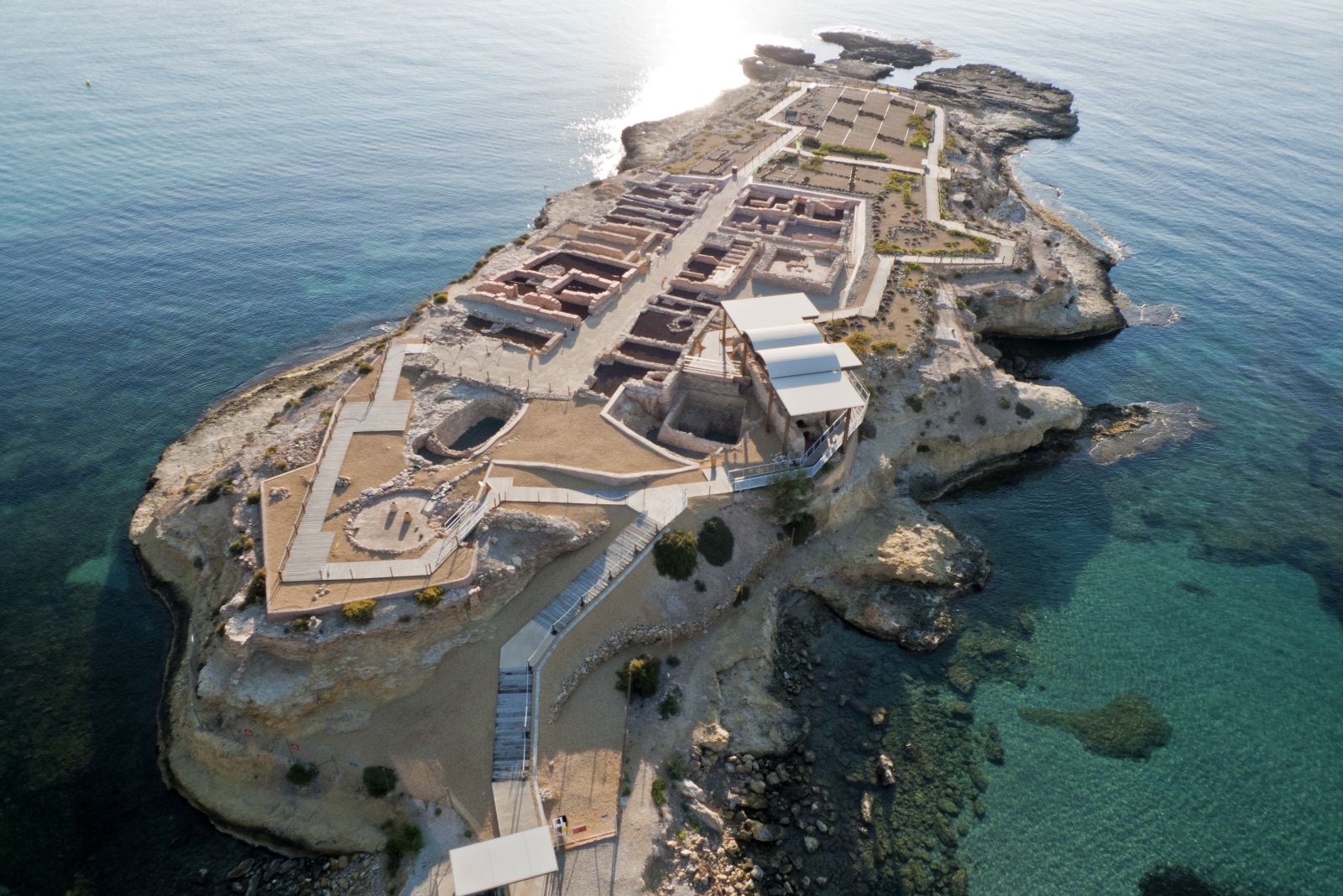 If you are visiting El Campello we recommend a trip to the archeological site of La Illeta dels Banyets and the famous Torre Vigía De La Illeta (tower), which is one of the most important historical sites in the Costa Blanca.
Within half an hour's drive from the coastline you will find yourself in a stunning countryside and mountainous zone. The scenery is beautiful, dotted with fascinating mountain villages, all with a history and a story to tell.
Views from the lofty mountain fortress of Guadalest rival those from anywhere else in Spain, and it is said that you can see as far as Ibiza on a clear day.
For outdoor enthusiasts, hiking and cycling routes can be found in the surrounding mountains. Here can also be found the famous Canalobre Caves.
Eating out
There is a huge choice of authentic Spanish restaurants and bars, all serving delicious meals or tapas. The El Campello Marina sits at one end of the bay, offering both a lively fish market and a selection of sumptuous restaurants
.
Cuisine 

The local cuisine in El Campello is typically that of the Costa Blanca, which combines delicacies from both land and the Mediterranean Sea. Many civilizations have lived in this area (Celts, Iberians, Greeks, Romans, Muslims), all of which have all left their mark on the gastronomy.
The diet in El Campello is a typically, healthy Mediterranean one; the Costa Blanca is rich in fish, vegetables, olive-oil, rice and fruit and the ingredients which are all used to prepare delicious, healthy dishes, such as Paella Valenciana, Arroz Negro (black rice), Arroz al horno (Oven baked rice), Arroz a banda (fish and rice stew), Arroz del Señoret (Princes rice).
Aside from seafood, typical dishes include succulent lamb chops, rabbit in garlic, roast leg of lamb with garlic and fresh rosemary, and home made sausages and black puddings.
If you have a sweet tooth then you will enjoy the local homemade pastries and deserts that the whole region is famous for. Or Jijona ice-cream (Nougat), which is made with the almonds of the region.
While in El Campello you can delight the palate with the ample wines an offer from the region giving Jalon wine a special mention due to its quality and bouquet.
There are many international restaurants close by offering a wide choice of different cuisines from around the world.
Climate
El Campello enjoys a typical Mediterranean climate; as is it is surrounded by mountain ranges, it can sometimes get very hot in summer, but it is protected against the cold North winds in winter. The area averages nearly 3,000 hours of sunshine each year and the average temperature easily exceeds 20 degrees.
In 1986 the World Health Organisation recommended the climate of the area as one of the most equitable in the world – neither too hot in the summer nor too cold in the winter. On average it can boast 325 sunny days each year making it an ideal all year round destination.
 Casa Coveta Holiday Rentals
                                                                                                               Towns and villages of Alicante

The air in the capital city of Alicante is pervaded with the scents of the sea; indeed the city has been an important seaport for many centuries. There is nothing as pleasant as strolling along the quayside promenade lined by four rows of palms, tessellated with marble in Alicante red, cream and black in imitation of the waves of the Mediterranean.
Don't miss the visit to the Barrio de Santa Cruz after visiting Santa Barbara Castle,
In the centre of the La Marina Baixa region, in the province of Alicante, is the popular Spanish resort of Benidorm, one of the main tourist destinations along the Costa Blanca. Its excellent beaches, wide variety of accommodation, restaurants and many recreational activities means it's a hit with tourists from all over Spain and Northern Europe.
At the heart of the Costa Blanca, within the province of Alicante, lies the ancient fishing village of Calpe. Calpe has a wonderful modern marina that sits alongside the old fishing port; from here it is possible to take boat rides around the rock and to the nearby resort of Benidorm.
Denia is a delightful cosmopolitan town that sits at the foot of a hill crowned by a castle. The city has well preserved ancient walls and bastions.
Javea is a small, historic town; free of high rise buildings offering a relaxing holiday atmosphere. The local people are friendly and affable. The clean, warm, blue Mediterranean Sea laps the beautiful beaches and coves that Javea has to
offer.
Santa Pola is located approximately 20 minutes drive south of Alicante airport. A small fishing port, Santa Pola is famous for its variety of landscapes, from the views of the distant mountains to the wild sand dunes.
Benitachell is a tranquil and picturesque village, originally an Arab outpost, with a stunning coastline nearby, which is formed by a succession of cliffs of more than a 100m high that descend vertically into the sea.
Altea is without doubt one of the most charming towns to be found on Spain's 'White Coast', located in the region of Alicante on the Costa Blanca. The town is just 11 kilometres north of Benidorm, yet the two resorts are worlds apart. Altea is similar to other Costa Blanca towns in that it has a new and an old neighbourhood. The old section is perched on top of a hill from where you will find really spectacular views.
Golf
There are many championship golf courses in and around Alicante, all within one hour's drive of the resort. https://www.casacoveta.com/golf/
 Activities for children of all ages in Alicante
Activities, attractions and experiences for children in Alicante in Spain. Alicante is the perfect vacation destination to travel to if you bring children. Besides the wonderful climate and beautiful sandy beaches that can keep kids active for days, there are several activities and attractions geared toward children of all ages throughout the Alicante province. 
In Spain the family is the heart of everything, and all along the Alicante province you can find a variety of activities and attractions suitable for children of all ages. Happy children make happy parents, and that is why Costa Blancais such a big family destination. There are enough activities, experiences and attractions here to keep the kids in activity throughout the year.
Alicante province is the perfect destination to travel to if you bring children on a holiday trip. Here we will look at activities and experiences for kids in Alicante in Spain.
Water parks in Alicante
Water parks are popular summer attractions on the Costa Blanca coast, and they often have thousands of visitors. Both local residents and tourists visiting these bathing parks, and if you take the trip yourself you can expect a fantastic day for the whole family. When the sun burns from a cloudless sky, it's good to be able to be in the water. Here's a list of water parks on the Costa Blanca, naturally, the kids are in focus. All water parks in this section is suitable for small children.
 Aqualandia in Benidorm

Aqualandia is one of the largest water parks, and has about 20 attractions with speed and voltage levels for all ages. The most adventurous trying slides from dizzying heights or through pitch dark tunnels! Aqualandia is a very popular all-day event. Aqualandia is located east of Benidorm, about 10 minutes drive. Bus numbers 1 and 11 go to Aqualandia and Mundomar.
Contact information Aqualandia
Address: Parque Natural Sierra Helada, Calle Sierra Helada, s / n, 03503 Benidorm, Alicante, Spain
Phone: +34 965 86 January 00
Internet: tickets.aqualandia.net
 Go karting – Speed ​​and excitement

The fabulous Alicante, a paradise for sun lovers and adrenaline seekers with a wide range of activities for all tastes and all age groups. Go Karting is fun for the whole family and a great way for kids (young or old) to experience an activity they have previously only tried on Playstation or Xbox. There are a number of Go Kart courses along the Alicante province.
Amusement parks in Alicante
The coastal strip Costa Blanca bursting of amusement parks and zoos for adults and children and here you can find fun diversion from the sun, beach and shopping. Costa Blanca theme parks offer everything from prehistoric creatures via crocodiles to real adrenalin rush rides. You can see water shows with dolphins, or why not take a dip with a sea lion? Or how about a safari, while antelopes, lions and tigers on all sides?
Terra Mitica Benidorm

Terra Mitica is a huge theme park is divided into five zones: Rome, Greece, Egypt, the Mediterranean islands and Iberia. This park has a variety of attractions for all ages – scrawny, wet, lightning fast, breathless and quiet, in addition to regular performances with the ancient civilizations that theme. Here spend easily a full day. Major attractions are such as Europe's longest rollercoaster in wood, rafting down a river, and rollercoaster à la restored and protected at Daisy. The park has several restaurants with decent prices, and picnic areas if you have carried lunch.
Contact information Terra Mitica
Address: Partida del Moralet, s / n, 03502 Benidorm, Alicante, Spain
Phone: +34 902 2 Feb. 20
Internet: www.terramiticapark.com
 Mundomar in Benidorm

Sea world are located just ourside Benidorm. Here there is a great park with a spectacular dolphin show. More beautiful entertainment you should look long for. Dolphins are feet, smart and graceful, yeah, but in summer it is professional synchronized swimmers in the water with the dolphins. Sea lions and parrot shows, flamingos and penguins, and more is just a few of the good reasons to visit Mundomar. There is not allowed to carry food into the park, but in return there are opportunities to get food of all various kinds within the oark area.
Contact information Mundomar
Address: C / Sierra Helada, s / n, 03503 Benidorm, Alicante, Spain
Phone: +34 965 86 91 01
Internet: www.mundomar.es
 Pola Park Santa Pola

Come to Pola Park for a fun family day out, where you can enjoy karting, quads, bumper cars, carousels, rides and rodeos. Pola Park has many attractions for the whole family. There are cafes and restaurants in the area so you can have a well deserved rest and a snack before tackling a few more of the major attractions.
Contact information Pola Park
Address: Avda. Zaragoza, s / n, 03130 Santa Pola, Alicante, Spain
Phone: +34 965 41 70 60
Internet: polapark.com
 Beach life and water activities

In Alicante province you'll find some of the world's best beaches, and the white coast has no less than 200 kilometers of shoreline, and they are all together in the province of Alicante where one can enjoy lazy days in the sand in the relaxing climate of the Mediterranean. Here we will give an overview of the best beaches on the Costa Blanca, all equipped with the blue flag. Perfect for kids on hot summer days. Read more about beaches in the Alicante Province
Zoos and Safari in Alicante
There are many exotic animals here in the Alicante Province, That is if you go away from nature for a moment and into one of the many animal and safari parks you will find in the area. Elephants and sjirafer, monkeys and bears, insects and snakes, everything you can imagine is available here.
 Terra Natura in Benidorm

These parks that are both in Benidorm and Murcia are commercial parks with shows and restaurants. Already at the entrance you get exhilaration exotic musicians playing up to those standing in the entrance area. The same dancers and musicians can be seen through several times later around the park, where they create small productions and shows. Terra Natura is owned and operated by animal rights activists. It is non-profit despite the commercial and professional appearance. The purpose is environmental protection and animal protection with endangered species as a specialty. You can via their homepages remote adopt animals hippopotamus, Siberian tiger and other animals in the park program. They also have a large laboratory in Benidorm. The park is professional and diverse. Many great eateries, Indians who make a special bird dance soaring high above the ground and elephants, lions and many more animals.
Contact information Terra Natura
Address: Partida Foia del verdad, 1, 03502 Benidorm, Alicante, Spain
Phone: +34 966 7:27 70
Internet: www.terranatura.com
 Safari Aitana

Want to see elephants and lions in their natural surroundings in Alicante? Then we recommend a trip to Safari Aitana. In a fantastic landscape with many large animals, you drive right up close to lions and tigers who doze in the sun. The animals are tame, extremely tame and you can stroke the elephants, and walk among deer and zebras. The park has a restaurant at the entrance. Few places you can get closer to the animals than here.
Contact information Safari Aitana
Address: Carretera CV-785, Km 20, 03815 Penáguila, Alicante, Spain
Phone: +34 965 52 92 73
Internet: safariaitana.es
Rio Safari

On the road between Santa Pola and Elche, you find another great park. Rio Safari is not just a zoo, here you find water slides too. There is a small train that takes you around, looking at the animals. For those who reside south of the Costa Blanca, this park is a must and it is not too bad priced either, 20 € for adults and 15 € for children under 12 years. With private picnic areas, this may be a reasonable alternative for the family.
Contact information Rio Safari
Address: Carretera Elche – Santa Pola, Km. 9, 03139 Alicante, Spain
Phone: +34 966 63 82 88
Internet: riosafari.com
 The Castle in Alicante

On top of Benacantil mountain you find a giant fort. Wherever you are in Alicante, you will see Santa Barbara 166 meters above the cityscape. A visit to the Castillo de Santa Barbara is fun for the whole family. First you travel by cable car to the top and then the view down towards the town and the beach is guaranteed a thrill. Here children run around among guns and watchtowers, and afterwards maybe running down to the center again on the old but well-kept city walls.
 Alicante's Archaeological Museum

May sound boring? Then you have to think again. This is a spectacular and modern museum where culture and entertainment go hand in hand and where you can actively participate. Entering the caves, visit a sunken Roman ship and spankulér around the excavation sites where you can learn about the most exciting aspects of archeology.
Contact Alicante's Archaeological Museum
Address: Placa Dr. Gómez Ulla, 0, 03001 Alacant, Alicante
Phone: 965 14 90 00
Internet: www.marqalicante.com
 The nature park in Torrevieja

Torrevieja and La Mata lagoons are surrounded by a unique landscape, and is a major tourist attraction. The entrance to the nature park located near La Mata beach in northern part of Torrevieja, and here we also find the modern visitors' center "Centro de Información del Parque Natural." The nature park with salt pans (Las Salinas) is a "must" for first time visitors to Torrevieja. The area consists of wetlands and saltwater lakes – used for salt production. The nature park is also an important conservation area for birds, and here one can spot various species of birds – including flamingos. Visitors have the opportunity to swim in the salt lagoon – which will be very healthy for people with ia arthritis, respiratory problems and rheumatism. The particular reddish color on one salt lagoon caused by algae, and is a favorite photo object. The nature park has great hiking and biking trails and visitor center is open most days of the year.
Address: Carretera Nacional 332, 03188 Torrevieja
Bonalba
Opened in 1995 Bonalba is the oldest and most settled 18 hole golf course in the Costa Blanca. The course designed by Ramon Espinosa is a diverse entity of trees, water obstacles, bunkers and large greens, making it an enjoyable experience for pros and amateurs alike.
The 6,367 metre, 18 hole par 72 Bonalba golf course is situated in the foot hills of the Sierra de Bonalba, overlooking the Mediterranean Sea and beaches of San Juan. It is situated between large lakes on gentle slopes and has its own golf Academy with qualified, professional instructors.
Bonalba is located approximately 15 minutes from "Casa Coveta" The best route to the course is by taking the highway (A7) that goes from Alicante to Valencia and then heading towards Alcoy (Exit 67) to the left. The course is only a few minutes off the highway, with signs guiding the way.


Bonalba golf resort

Alicante
Alicante Golf was officially inaugurated on January 23, 1998 at a ceremony chaired by its designer, Severiano Ballesteros, and in the presence of the then President of the Spanish Golf Federation, Emma Villacieros.
At the foot of the Mediterranean is Alicante Golf, located on the spectacular San Juan beach, 5 minutes from the center of Alicante. Nestled like a green lung in the residential area, the course has wide holes replanted with thousands of trees. Alicante golf´s priority aspects are caring for the environment and saving water consumption.
Alicante Golf is located approximately 20 minutes from "Casa Coveta". The best route to the course is by taking the N-332 towards Alicante.

Alicante golf
El Plantío
The El Plantío golf course is located in perfect harmony with the environment, giving rise to a unique space of nature. The essential feature is the existence of an ubiquitous plant mass that harmonizes the game. Dense groups of trees that define and outline the streets have been planted, there are a large number of evergreen species in which to look for a good shade all year. The vegetable mass along with the proximity to the sea makes a microclimate with mild temperatures, in addition to the frequent breezes that make the game much more bearable in summer.
The course was completed in October 1999. It occupies 49 hectares of land, 18 holes par 72 and 6,257 meters of travel, in addition to an excellent practice area.

El Plantío golf
Font del Llop
Located just 10 minutes from Alicante International Airport, surrounded by vineyards, almond trees and ancient olive trees. 18-hole par 72 course, fully integrated with the landscape of the area, which with its American-looking design and Scottish molding, will make all kinds of players enjoy. With the help of Blake Stirling and Marco Martín, it offers the player a course with International measures, what we know as the Championship Course, prepared for tournaments of the highest level and for the amateur player. The hills of the valley, the natural troughs and a small river that connects its five lakes, mark the 18 holes and make golf a wonderful excuse to leave your property and enjoy the sport among friends or other golf lovers!

Font del Llop golf
Alenda
The Alenda Golf course has been designed and built by Roland Favrat, while respecting the initial orography and the vegetation of the farm, with avoiding aggressive earthworks in its construction.
The course was completed in October 1999. It occupies 49 hectares of land, 18 holes par 72 and 6,257 meters of travel, in addition to an excellent practice area.

Alenda golf